AutoResponders are an automated tool that automatically reply to a received with a pre-defined response.
Uses for them include:
Confirming an email has been received by the recipient and let the sender know when they might receive a reply
Alert the sender if the mailbox is no longer in use
Notify the sender that the receipent is on leave, or holiday and may not respond until a set date
Steps for creating a cPanel AutoResponder
1. Within cPanel, click on 'Autoresponders'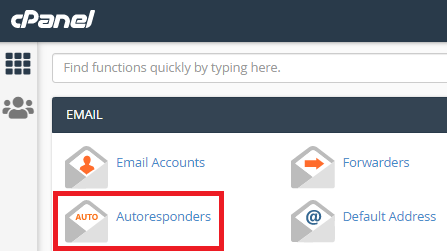 2. Click 'Add Autoresponder'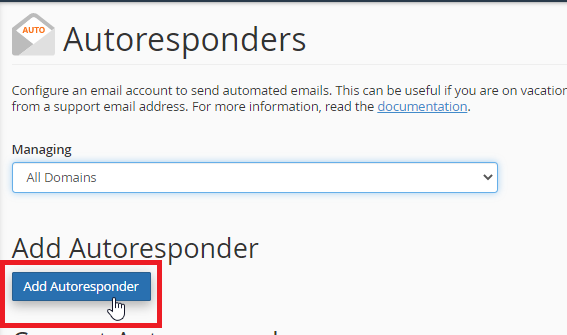 3. Confirm the 'Character Set' on utf-8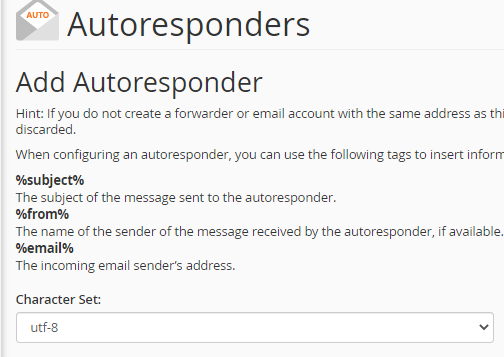 4. Set the 'interval' on 7 hours
This limits the autoresponder to only send 1 response per 7 hour time period and prevents 2 auto-responders going to war and filling up your mailbox with millions of emails!

5. Enter the first part of the email address that is planned to receive the email and confirm the domain is correct.

6. Enter the sender name in the 'From:' section and the 'Subject:' you want the response to be labeled with

7. Fill out the message 'Body' with a response
If the message is going to contain HTML code or styling, tick the 'contains HTML' checkbox.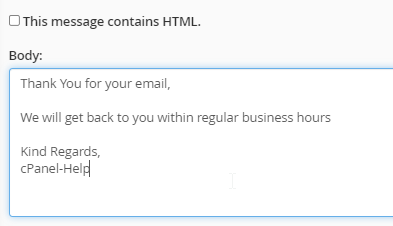 8. You can add a 'Start' and 'Finish' date if required, ie a user going on holiday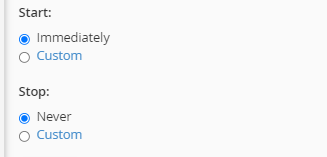 9. Click 'Create'

10. You should now see the Autoresponder listed

When a sender emails the address, they will automatically get a reply